Potassium Permanganate (KMnO4)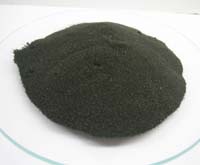 Potassium Permanganate (shown left) is a dark powder which, when dissolved in water, disassociates into K+1 and MnO4-1 ions to form a deep purple solution.
The Permanganate ion (MnO4-1) acts as an extremely powerful oxidizing agent in many chemical reactions.
Potassium Permanganate is such a powerful oxidizer, in fact, that when mixed with certain substances, a combustion reaction will proceed spontaneously without the need for a form of ignition.
When glycerin is poured onto a pile Potassium Permanganate powder, the Potassium Permanganate quickly begins to react, automatically starting a combustion reaction within seconds as shown in the video below.
Due to the intense heat liberated in the process, as well as the ease of starting the reaction, Potassium Permanganate / Glycerin is sometimes used to ignite thermite mixtures.


Last updated: 08/16/2006